The Dentists
Dr. Beatriz De La Roche, D.M.D.
Dr. Beatriz De La Roche graduated from the University of Pittsburgh, School of Dentistry, and was awarded a DMD degree. She completed her residency in Pediatric Dentistry at the Children's Hospital and The Medical Center of San Juan, Puerto Rico.
Dr. De La Roche has shaped her career around her three passions: children, dentistry, and art.
She has been a leader in the field of Pediatric and Adolescent Dentistry for over 22 years and her innovative approach has changed the way children experience dentistry.
Aside from her professional skills, Dr. De La Roche is an accomplished artist who often uses her talents to help educate parents and children on the importance of maintaining good dental health and about different dental procedures. She believes in providing a positive atmosphere for children, and her facilities are custom designed and appreciated by her patients on a daily basis.
---
Dr. Jeffrey Martz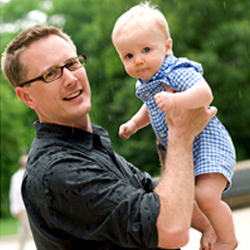 We are fortunate and proud to work with Dr. Martz. Dr. Martz's specialized expertise and calm demeanor make him a great asset to our practice.
Thanks to his services we can provide comprehensive restorative and surgical care to those anxious and/or young and cognitively immature patients that can not cooperate in the regular dental setting in the comfort of our office.
Dr. Jeffrey Martz attended the University of Pittsburgh where he received a bachelor's degree in Biology. He earned his DMD from the University of Pittsburgh School of Dental Medicine. Dr. Martz then completed a three-year dental anesthesiology residency at the University of Pittsburgh School of Dental Medicine and the University of Pittsburgh Medical Center.
Dr. Martz is currently a Clinical Assistant Professor of Anesthesiology at the University of Pittsburgh School of Dental Medicine and maintains a full-time office-based anesthesia practice as well. Dr. Martz is an active member of the American Dental Association, the American Society of Dentist Anesthesiologists and the American Dental Society of Anesthesiology. He is also a diplomate of the American Dental Board of Anesthesiology and the National Dental Board of Anesthesiology. Dr. Martz resides in Pittsburgh with his wife and children.
---
Dr. Lisa Babb
Dr. Babb was raised in Saint Marys, Pennsylvania and graduated Summa Cum Laude with a Bachelor's degree in Biology from The University of Pittsburgh. Upon graduation, Dr. Babb earned the Dean's Scholarship and attended The University of Pittsburgh School of Dental Medicine where she graduated second in her class and was inducted into the prestigious Omicron Kappa Upsilon dental honors fraternity.
Following dental school, Dr. Babb attended the Orthodontic Residency program at Virginia Commonwealth University in Richmond, Virginia where she completed her Master's Thesis entitled Influence of facial profile on social perceptions: a 3D video imaging study and earned a Master's of Dental Science in Orthodontics.
Dr. Babb loves the City of Pittsburgh and its sports teams. In her free time, she's currently enjoying life as a newlywed, learning Portuguese (so that she and her husband can have secret conversations), and giving her rescue pup, Ace, tons of love! She can't wait to meet all of the wonderful people in the Mount Pleasant and the surrounding areas who want beautiful, straight smiles.

THE STAFF