Should You Take Your Child to a Pediatric Dentist in Mount Pleasant or Murrysville?
Should You Take Your Child to a Pediatric Dentist in Mount Pleasant or Murrysville?
Written By Tender Care Pediatric Dentistry on March 4, 2020
---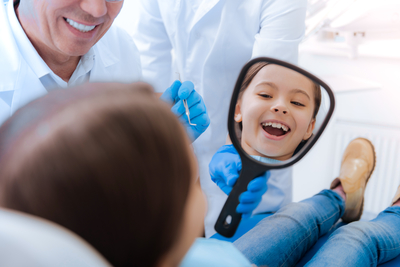 When it comes time to take their child to the dentist in Mt Pleasant or Murrysville, many parents wonder whether they need to take their child to a pediatric dentist or a general dentist
What's the difference? Why do kids need a specialist?
Does Your Child Really Need to See a Pediatric Dentist?
Here are some common questions about pediatric dentistry in Murrysville and Mount Pleasant.
Why Can't My Child Just See My Dentist?
In general your dentist is accustomed to treating adults and their adult dental needs. a Pediatric Dentist sees kids all day long. Pediatric dentists have special training in the care of the dental and the psychosocial needs of children and the special needs population. They are extremely patient and compassionate. They understand a kid's fears, and teach them to cope; qualities that put children at ease.
Does a Pediatric Dentist Have More Training Than a General Dentist?
Pediatric dentists go through three to four years of undergraduate study. Then, they go through four years of dental training to earn their dental degree. To become a pediatric dentist, a dentist must complete a two-year residency program after graduating from dental school.
What Does a Children's Dentist Really Do?
Pediatric dentists care for the dental needs of children between the ages of six months to 18 years. These dentists set the foundation for good oral health throughout the child's life. They do this by providing regular cleanings and exams, as well as procedures that help ensure the health of the child's teeth, gums, oral tissues, and jaw joints.
Start Healthy Habits Now to Keep Your Child's Teeth Healthy
Is it inevitable that your child will have cavities, end up with gum disease, or lose their teeth as they age? It doesn't have to be. You can help ensure your child's teeth and gums stay healthy now so they can avoid dental issues down the road.
Making sure your child sees a pediatric dentist regularly will get them comfortable with going to the dentist so that they continue with healthy habits as adults.
Has it been a while since your child has seen a dentist? Call us at 724-542-4818 to schedule a comprehensive evaluation.

Posted In: Pediatric Dentist